IR35 status tools and consultancy for everyone
Proven IR35 experts delivering status tools, consultancy and legal services that give certainty to contractors and the businesses that hire them.
Quickly assess and prove your IR35 compliance
Our IR35 Shield solution is infinitely scalable right out of the box. Our technology is so streamlined we can accurately assess and determine the IR35 status of the entire market of over half a million UK contractors in a single morning!
Understand the impact on your workforce, fast
IR35 Shield uniquely delivers advanced analytics, providing you with instant answers to your primary concerns surrounding IR35.
What impact will IR35 have on my bottom line?
If most of my workforce are deemed inside IR35, how much will it cost me?
Can I still attract and retain key talent and remain competitive?
IR35 Shield provides you with the analytical tools you need to help make the right decisions.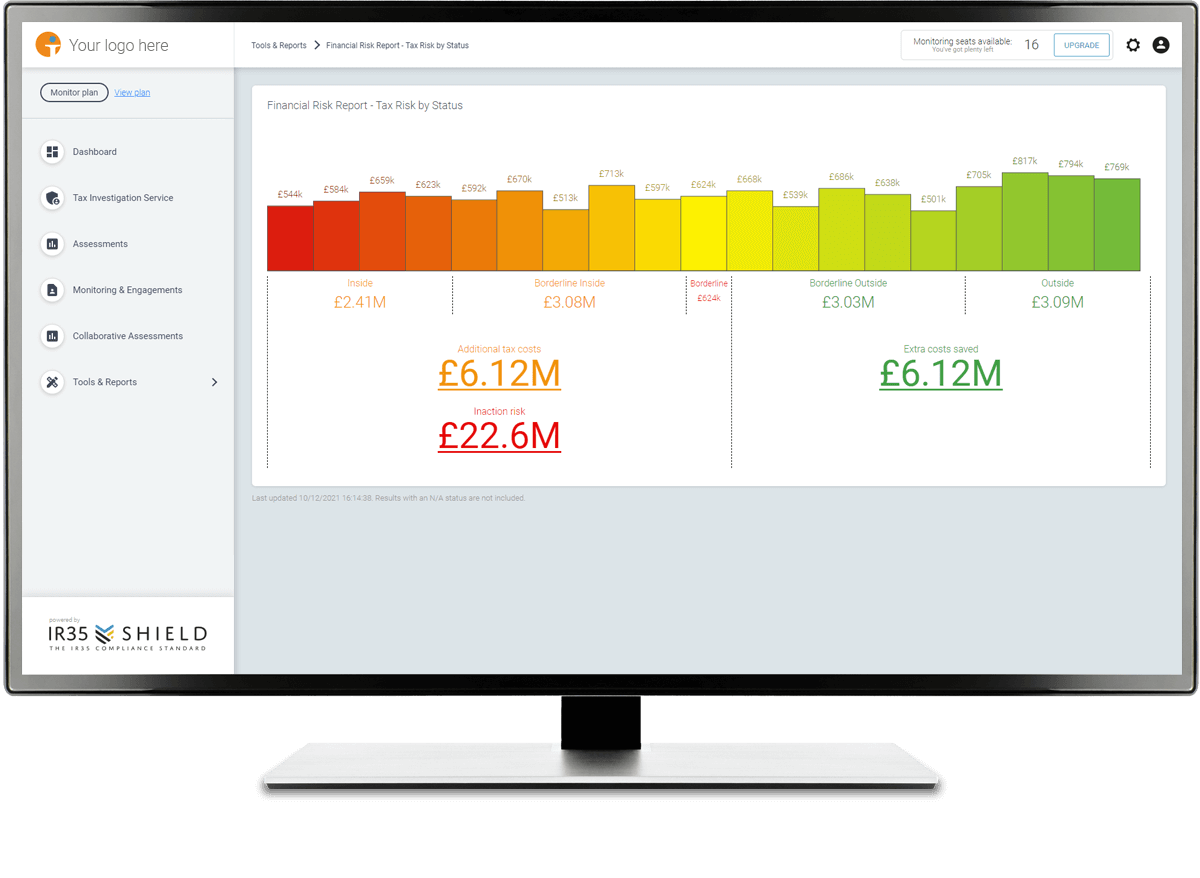 Stay compliant with full confidence
IR35 Shield is powered by our expert assessment technology, built in 2009 and expertly refined along-side ever-changing UK IR35 case law. Our assessments deliver the same status as the judges rulings on all IR35 cases, giving you ultimate peace of mind.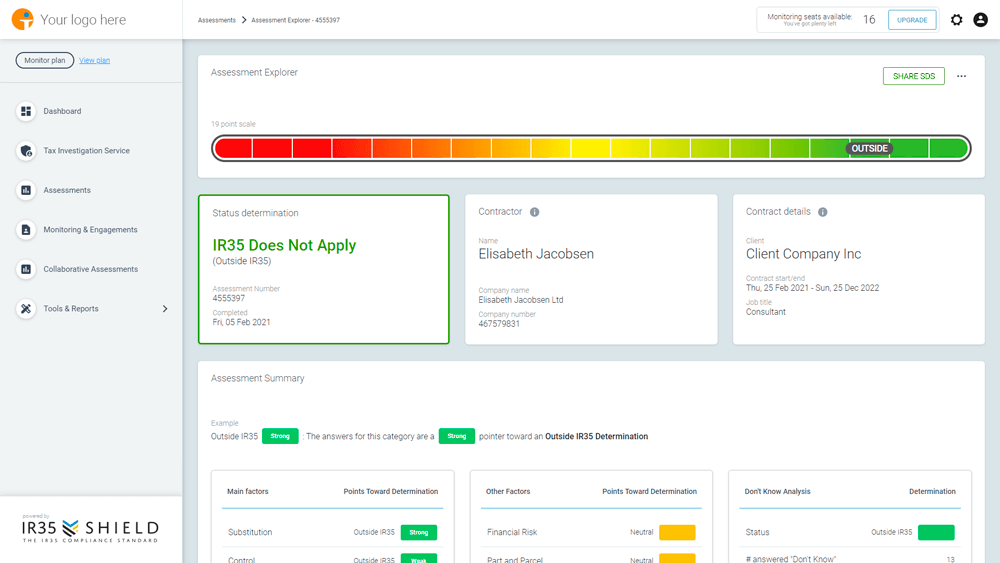 Insurable determinations
IR35 Shield has partnered with specialist tax underwriters to give our customers comfort where further cover is desired.
More information
Markel Tax has been providing advice and guidance on IR35 and underwriting IR35 based insurance policies for 20 years, and we are delighted to be working with IR35 Shield to help firms manage the risks associated with the new off-payroll reforms.

Paul Mason

Head of Tax Partnerships
Our clients look to us to provide straightforward access to key skills and flexible labour. IR35 Shield helps us achieve this by minimising the pain of off-payroll compliance for our clients, while effectively mitigating the risk for all parties in the supply chain.
IR35 Shield's knowledge in the IR35 space is exceptional. Our firm, Professional Passport, delivers compliance across the recruitment sector and we are strongly recommending both agencies and clients use IR35 Shield as a way to manage their ongoing IR35 compliance process.

Crawford Temple

Chief Executive Officer
IR35 Shield is both efficient and user-friendly, and it demonstrates reasonable care, providing us and our clients with the necessary assurance. Companies with turnover exceeding £100m that are engaging dozens of contractors are naturally risk-averse, so providing this assurance is crucial.
IR35 Shield has enabled us to carry out accurate status assessments in bulk, evaluate contract terms and working practices, and satisfy clients and contractors through collaborative assessments. These, along with the additional insights and features provided, have proven invaluable for our service offering.
Having adopted IR35 Shield as our compliance solution, it's essentially been business as usual for us. We just open the tool, complete assessments as and when we need to and put the compliance observations into practice. The administration involved is minor. It's almost as if the off-payroll reform never happened.
We have worked collaboratively with the creators of IR35 Shield on IR35 tax cases, winning an appeal at the tribunal with their assistance in 2019. Their knowledge and expertise in this area is exemplary and is clearly reflected in the detailed and comprehensive manner in which they conduct status assessments.

Chris Leslie

Tax Advisory (HMRC Dispute & Resolution)
IR35 Shield has enabled us to offer an added value service that we otherwise would not have been able to provide to our clients. By underpinning our compliance offering, it has strengthened our reputation, while its own reputation has helped us get our clients on board with minimal fuss.
IR35 Shield has been invaluable for us from day one. It is an inclusive and brilliantly robust solution that is accessible, easy-to-use and well-supported, helping us better manage IR35 status assessments.
Choose a plan that's right for you
Whether you're an agency, corporate or contractor, we have the complete IR35 solution for you.
IR35 Shield for Contractors
Unlimited IR35 assessments combined with insurance
IR35 Shield for Business
Manage off-payroll compliance for your contingent workforce